Frequently Asked Questions
When are you open?
Our business hours are:
Monday - Friday: 6:30 am - 2:00 pm
Saturday: 6:30 am - 10:00 am
Sunday: Closed
---
Where do you deliver?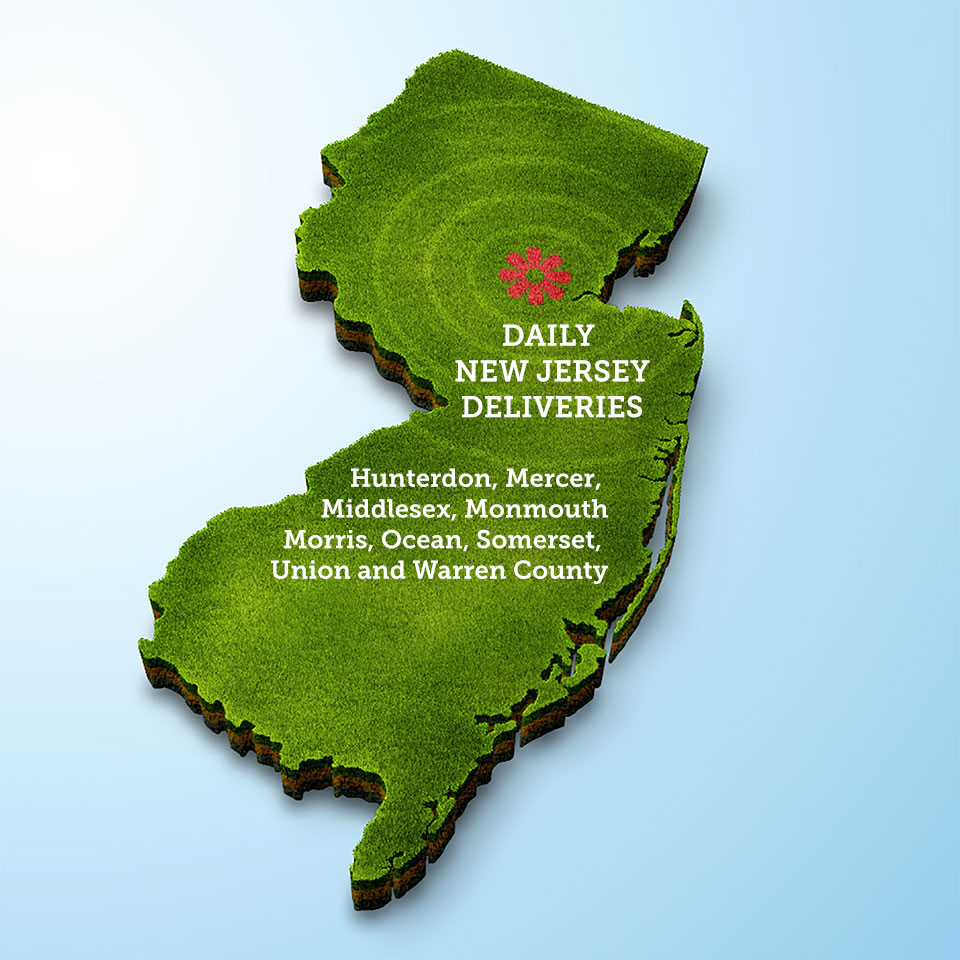 Do you sell to the public?

As a wholesale business, we can only work with licensed floral resale professionals. We are not able to sell to the public.

However, we will gladly provide you with a reference to our stellar customer base so that you may buy our products directly from them.

What areas do you deliver to in New Jersey?

Ferris delivers flowers Monday through Friday to our New Jersey customers in Hunterdon, Mercer, Middlesex, Monmouth, Morris, Ocean, Somerset, Union and Warren counties.

If you are outside these areas, please give us a call to see if we can work you into our regular delivery routes. We do everything that we can to accommodate new Ferris customers.


Do you have a delivery charge?

Our area truck deliveries are $15, subject to changes.

How do I become a customer?

We're so happy you asked!


We have a simple 3 step process that helps you quickly and easily become a customer, and it's all online.


You just download and complete the 3 required forms, then upload them with a scan of your Tax ID certificate, complete a short questionnaire and the rest is up to us.


You can place orders with Ferris either by calling on Monday - Friday (6AM to 3PM), or on Saturday (6:30AM-10:30AM) to speak with one of our Floral Experts, or by contacting them by e-mail.

You can also place orders 1-2 weeks in advance of delivery, by going to our online FlowerWebShop, where you can find your favorite flowers and fillers 24/7.

Is there a minimum order?

Depending on the source, there could be. For more details, call and speak with one of our Floral Experts to discuss your options.

How far in advance to I need to place my order?

If you are shopping our current inventory, you can call or e-mail to place your order the day before you want your flowers.

For special events, or specific products, placing your order two weeks in advance gives us enough time to acquire the best selection and provide you with the best pricing.

How late can I change or cancel my order?

We work to accommodate our customer needs. However, the earlier you change or cancel an order, the more accommodating we can be.

Can I book a standing order?

Of course! We encourage standing orders because it ensures the best quality, availability and price we can provide to our customers.

What are your purchasing options and payment terms?

We accept cash and credit card payments. All new customers are C.O.D. until credit terms are established.

What is your credit/return policy?

Payment in full is required within 30 days of the end of month, following the date of purchase.

All claims must be made within 24 hours of receipt of goods, followed by return of goods for credit or replacement.

Do you sell floral supplies?

Yes, we sell most floral supplies.

Please contact your Floral Expert for help with acquiring the supplies that you need. Here is a partial list of what we have available at our Middlesex, New Jersey location:

baskets
ceramic containers
glassware
ribbons
floral foam
candles
wedding supplies
sympathy supplies
tools
preservatives
wax tissue
water tubes
picks

What if I am missing items from my order?

Please make sure you've opened all boxes and double checked your order. If items are missing, please call us, and we will work with you to complete your order.

How do you keep your flowers so fresh?

Our flowers are processed from their farms to our coolers using the Cold Chain method to ensure delivery of the highest quality flowers with the longest vase life possible to our customers.

When our flowers are harvested, they're quickly and carefully packed into boxes and placed inside 35 degree coolers - which is cold enough to slow down their life cycle, putting them into a sleep state.

They travel in their sleep state via refrigerated trucks and planes to our coolers, where we bring them back to life before delivering them to you ASAP.